Single Dental Implants – Allentown, PA
Restoring Your Root and Your Smile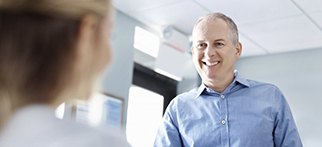 Did you know that approximately 178 million people in the United States are missing at least one tooth? That's over half the country suffering from a weakened biting force and an incomplete smile! According to Dr. Eric Marsh and Dr. Michele Pisano-Marsh, you shouldn't have to settle for an incomplete smile, especially when the risk of future tooth loss only goes up the longer you have missing teeth. With single dental implants in Allentown, your next tooth replacement is more comprehensive than ever before. Keep reading to learn how we make it happen or schedule a consultation with our office today!
Your Options for Single Tooth Replacement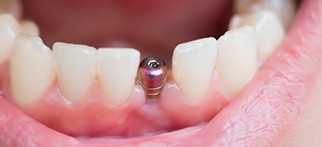 Generally, patients have two options when it comes to replacing individual teeth. These include dental bridges and dental implants. While both accomplish the same thing, only one effectively replaces the entire tooth structure. Consider their differences below:
Dental Bridges – If you want to replace single or even multiple teeth at a time, dental bridges would be your go-to solution. These restorations are made up of a series of dental crowns fused together. The crowns that sit adjacent to healthy teeth are hollowed out so they can be seated on top of existing natural teeth. This means that, much like a typical dental crown, existing tooth enamel needs to be modified so the restoration can remain stable.
Dental Implants – Unlike bridges, dental implants make accommodations for the entire tooth structure, which includes the root that sits underneath gum tissue. The replacement root is made from titanium, while the crown portion is made from natural-looking porcelain. To perform this, a small incision is made inside of the mouth and an implant is placed. After closing the tissue, the implant is given several months to integrate with the bone and surrounding gum tissue. Once fully healed, we'll restore it with a durable and long-lasting restoration.
How Can Dental Implants Benefit You?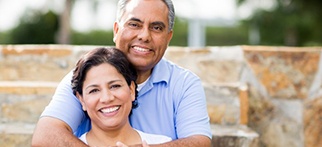 Because dental implants integrate with your jaw and don't simply sit on top of it like a dental bridge does, you're getting restorative benefits that are exclusive to this type of treatment. For example, dental implants work to restore blood flow to the gums and facial tissue. This way, your face does not prematurely sag or hollow out, which is common for those with missing teeth. If you care about retaining a youthful appearance, dental implants are ideal for you.
Additionally, since dental implants are strong enough to hold restorations on their own, there's no need to modify existing teeth just to make them fit. This cannot be said for dental bridges, which require healthy neighboring teeth to have them placed.
Finally, since dental implants are designed to integrate with existing bone tissue, you're able to retain and restore as much of your original biting force as possible. That means eating your favorite foods, whether they be apples, steaks, nuts or other items you couldn't consume due to your tooth loss, becomes seamless and accessible.