Implant-Retained Dentures – Allentown, PA
Beautiful Replacements for Missing Teeth
You need all your teeth to chew, speak and smile as well as possible. One missing tooth can cause plenty of problems, but multiple missing teeth can make life very challenging indeed. Dr. Eric J. Marsh and Dr. Michele A. Pisano-Marsh can recommend implant-retained dentures for patients who are missing all their pearly whites. If you or a loved one might be facing an empty smile in the future, schedule a consultation with us today.
How Do Implant-Retained Dentures Work?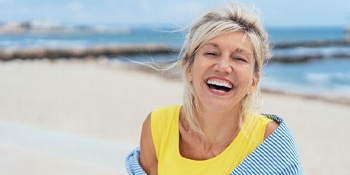 Dental implants interface with your jawbone and act as roots for replacement teeth. They are small posts that are usually made of titanium, a highly biocompatible material that can fuse with the bone during a process called osseointegration. Your dentures will be anchored in place by the implant posts. This way you won't have to worry about them slipping like traditional false teeth that only rest on the gums. The implants will also stimulate the jaw and keep it healthy and strong, which helps you maintain better facial structure and a more youthful appearance.
Am I a Candidate for Implant-Retained Dentures?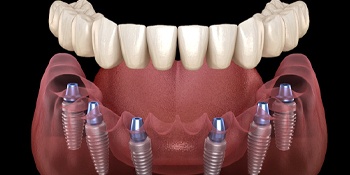 If you've lost an entire arch of teeth, you're a potential candidate for dentures, but whether they can be supported by dental implants is another question. There needs to be enough height in the jawbone for the posts to be placed; some patients might need bone grafting first. Also, if you have gum disease, there's a chance it could cause dental implants to fail unless it's treated first.
If you've lost most of your teeth in your upper or lower jaw but still have a few remaining, you might be able to get implant-retained dentures after they've been extracted.
The Implant-Retained Denture Process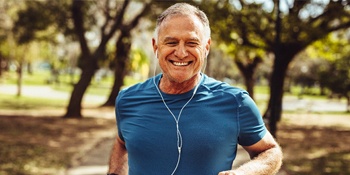 First you'll need to have a consultation at our practice so that we can plan the surgery as well as any other treatments that are deemed necessary. Once it's time for the dental implants to be placed, we'll numb your mouth before making small incisions in your gums. Four to six implant posts can be used to support dentures. Typically, we'll need to wait a few months (usually three to six) for the gum tissues to heal and for osseointegration to take place. Once that's done, you'll be ready to receive your full dentures.
Benefits of Combining Dentures & Dental Implants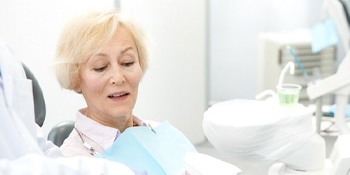 Restorations That Look and Feel Natural: Because the implants become part of you, they feel as natural as your real teeth. The dentures they support are beautiful and will let you smile with confidence.
More Stability: Your false teeth won't slip when they're attached to dental implants, so you can eat and speak in public without worrying. Speaking of eating, the improved stability of implants also boosts their chewing power, letting you enjoy all your favorite meals without restriction.
Easy to Take Care Of: You won't need to take out your dentures to clean them; just brush and floss normally.
Longevity: Dental implants last for decades with the proper maintenance.