Root Canal Therapy – Allentown, PA
Fast, Effective Relief for Your Toothache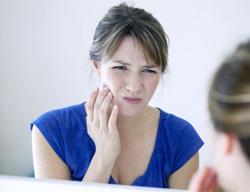 If your emergency dentist in Allentown has recently recommended that you have a root canal, you are probably a bit hesitant. Let's face it, they have a bad reputation for being painful; however, you might be surprised to learn that they are now no worse than a traditional dental filling. Using the most advanced technologies and techniques, Dr. Eric J. Marsh and Dr. Michele A. Pisano-Marsh will rehabilitate the health of your tooth while promoting the appearance of your smile.
What Is a Root Canal?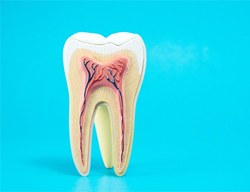 A root canal is a procedure during which the infected center portion of your tooth (also known as the pulp) is removed. Although this may sound painful, we will make sure you are numbed up beforehand with local anesthetic. First, we create a small hole in the tooth to access the pulp. Then, the center of the tooth is taken out and replaced with a synthetic material called gutta-percha. Next, the tooth is sealed back up and restored with either a filling or temporary crown, since the tooth will be vulnerable from that point on. If a crown is used, you'll return to our office a few weeks later to receive your permanent crown. Many teeth that are treated with root canal therapy and then restored with a crown go on to last the rest of a patient's life.
When Is a Root Canal Needed?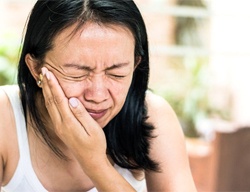 Here are some common signs that you might need root canal therapy:
Persistent pain in one tooth, especially when chewing or biting
Lingering sensitivity to heat and/or cold
Pimple-like bump on the gums
Dark discoloration of the tooth or surrounding gums
Swollen gums near the affected tooth
What Can I Expect After a Root Canal?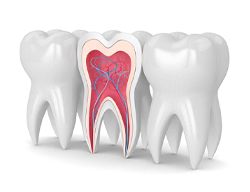 For the first few hours after your root canal treatment, your mouth is still going to be numb. As a result, you should avoid eating until the anesthetic has worn off. When you do eat, refrain from chewing with the tooth that received the root canal, as it will be tender. You can expect to deal with some degree of soreness and possibly swelling for the next few days. This can be managed by taking your prescribed or over-the-counter pain medications like ibuprofen. Alternatively, you could apply a cold compress to the appropriate cheek for ten-minute intervals until the swelling and pain go down.
Do you have a severe toothache or any of the other symptoms listed above? You may need root canal therapy. Thanks to advancements in modern dental medicine, you have nothing to be scared of when it comes to root canals. Contact us today to schedule your appointment. We can provide fast, effective relief for your toothache.