Dentist in Trexler Park for Root Canal Therapy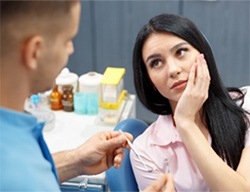 If your dentist in Allentown has recently recommended that you have a root canal, you are probably a bit hesitant. Let's fact it, they have a bad reputation for being painful; however, you might be surprised to learn that they are now no worse than a traditional dental filling. Using the most advanced technologies and techniques, Dr. Eric J. Marsh and Dr. Michele A. Pisano-Marsh will rehabilitate the health of your tooth while promoting the appearance of your smile.
Do I Need a Root Canal?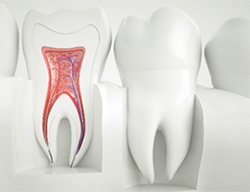 No one wants to hear that they need root canal therapy in Allentown, but it may be in your best interest. When a tooth has suffered from infection, decay, or trauma and there are no other viable treatments, it is best to have the procedure to save it from an extraction. While you may think that having it removed will be the better solution, there are a wide range of complications that are associated with tooth loss, such as decreased bone density. Instead, it is best to save your tooth with a root canal.
What is a Root Canal?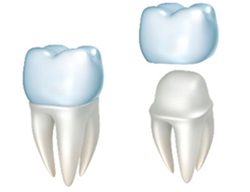 A root canal is a commonly performed endodontic procedure that removes the inner most layer of the tooth known as the pulp. While the pulp is necessary as the tooth forms, it can survive without it after it has properly developed, so you do not have to worry about any additional complications.
During your procedure, an anesthetic is used to prevent any pain or discomfort. Using special dental tools, the areas of damage and the pulp are removed through an opening that is made in the crown. Then, your tooth is sterilized and sealed using a special material known as gutta-percha, which is a rubber-like substance. Now, it's health has been rehabilitated. To restore its function and appearance, a dental crown may be needed.
A dental crown is a custom-made cap that is placed over the tooth. This not only reestablishes its function and adds an additional layer of protection, but it also improves its appearance. Now, crowns are made from an all-ceramic material to look like a real tooth.
After your tooth has been treated, we take digital impressions to create your crown with precision and accuracy. We will develop the specifics for the cap, including the size, shape, and color you need to blend in seamlessly with your natural teeth. Once your crown is ready, it will be bonded in place over the tooth. With the right aftercare, like maintaining your oral hygiene, your crown can last for an average of 10 years before needing to be replaced.
Restore Your Smile Today
If your dentist has recommended that you have a root canal, do not worry. We offer the solutions you need for a stress-free procedure. We will rehabilitate the health of your tooth to save it from needing to be extracted while promoting the beauty of your smile.
If you need a root canal, do not wait. Contact our office today to schedule your consultation.