Dental Implants — Allentown, PA
A Beautiful, Long-Lasting Solution for Tooth Loss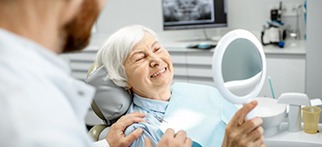 At Marsh Dental, we've found that there are a number of negative outcomes from not replacing missing teeth: a misaligned bite, bone loss in the jaws, and a loss of self-confidence are just a few. Implants are a fantastic replacement option because they replace the entire tooth, including the root. This is what gives them so many fantastic advantages over other options and provides such a natural look and feel. If you'd like to know if implants are right for you, contact us to schedule a consultation with Dr. Marsh or Dr. Pisano-Marsh. We'd love to help you enjoy the benefits of a full smile after tooth loss!
Why Choose Marsh Dental for Dental Implants?
Partners with Local Dental Implant Specialists
Hybridge Full-Mouth Reconstruction Option Available
Fair, Flexible, and Reasonable Dental Fees and Financing Options
What Are Dental Implants?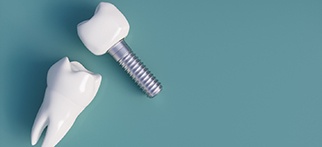 Unlike bridges or dentures, dental implants make accommodations for the entire tooth structure, which includes the root that sits underneath gum tissue. The replacement root is made from titanium, while the crown portion is made from natural-looking porcelain. Because dental implants integrate with your jaw and don't simply sit on top of it like a dental bridge or denture does, you're getting restorative benefits that are exclusive to this type of treatment. If you want a tooth replacement option that not only feels incredibly natural but is designed to remain healthy for decades at a time, dental implants are likely for you.
Benefits of Dental Implants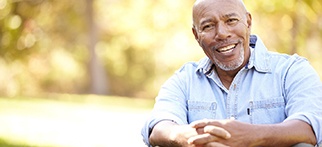 With the many benefits that implants provide, it's no wonder that they're such a popular way to replace missing teeth. They enhance your oral health and overall well-being in so many ways, including:
They look, feel, and function like your own teeth
Total tooth replacement that prevents bone loss and maintains the facial structure
Implants don't affect healthy teeth like a dental bridge would
High success rate (over 95% in non-smokers)
Implants can last many decades – far longer than traditional bridges and dentures
Allow you to eat hard, tough, or crunchy foods
Who Dental Implants Can Help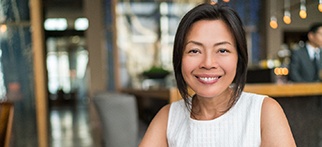 If you're considering implants, you may be wondering how many you need. Unfortunately, it's hard to provide you with an estimate without examining your mouth first. Dr. Marsh or Dr. Pisano-Marsh will carefully examine the condition of your oral health, the strength of your jawbone, and how many teeth you're missing before recommending a personalized treatment plan. It will all depend on your smile. In some cases, we may have to use multiple implants to support a single tooth that is larger, like a back molar. That's why it's hard to know the number of implants you need without coming into our office first.
Missing One Tooth
Implants are perfect for replacing a single missing tooth, and will simply be restored with a single dental crown. This crown is made from natural-looking porcelain, ensuring the best-looking esthetics while remaining durable for years to come.
Missing Multiple Teeth
If you're missing several consecutive teeth, we can anchor a dental bridge with just one to two implants. Opting for an implant bridge means you won't need to adjust nearby teeth just so it can be confidently placed.
Missing All Teeth
Patients who have lost all the teeth in their upper or lower arch can benefit from an implant denture. Like their traditional counterparts, these dentures will have a gum-colored base that supports replacement teeth. Rather than staying in place with clasps, suction, or denture adhesive, we can usually secure these appliances with just 4-6 implants per arch.
And, if you've been struggling with tooth decay for years and are in need of significant tooth replacement, the Hybridge dental implant system might be for you. It's considered to be the most comprehensive tooth replacement option available at Marsh Dental, and Dr. Marsh is more than happy to teach you more about the treatment.
Learn More About Implant DenturesLearn More About Hybridge Dental Implants
Understanding the Cost of Dental Implants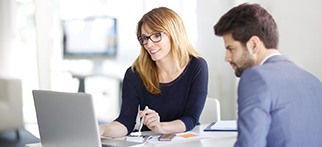 There are countless factors that go into the cost of dental implants, which is why the best way to figure out how much restoring your unique mouth will be is to schedule a consultation with Dr. Marsh or Dr. Pisano-Marsh. From there, our team can determine whether you need any type of preparatory procedures such as bone grafting or tooth extractions, and help you decide what restorations would be the best option for you. With countless benefits to offer, patients agree that dental implants are one of the best solutions to replace missing teeth and well worth the investment.
Number of Missing Teeth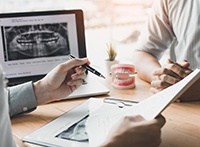 One seemingly obvious factor that impacts the cost of your dental implant procedure is how many teeth you're missing and where they're located. It may seem obvious, but the more teeth you need to be replaced, the more implants you'll need surgically inserted, which raises the cost.
Also, restoring teeth located towards the front of the mouth are often more expensive than ones in the back. Because they're more visible, they need to be specifically crafted to match the aesthetic of the rest of your smile. Also, there's less space in the front of your mouth, which can make them trickier to place.
Are Dental Implants Worth the Cost?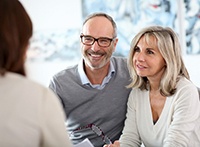 Dental implants are a modern restorative procedure that offers a laundry list of benefits. Although it isn't the cheapest solution out there, it can save you money and time in the long run. Because they have a lifespan of 30 or more years when they're properly cared for, you won't have to worry about replacing them and scheduling a new procedure every 7 or so years like you would with traditional restorations. Additionally, dental implants are the closest option to your natural teeth, so you can enjoy taking care of them in the same way!
Advanced Dental Implant Procedures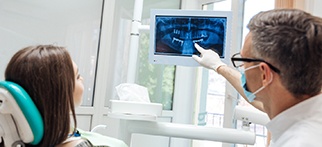 There are a couple of procedures and surgeries that you may need in order for your implants to be successfully placed. Depending on your oral health and the health of your jawbone, you may need grafting or a couple of teeth extracted beforehand.
The roots of your teeth are fused with your jawbone. When these teeth go missing, your jawbone and oral tissues aren't being stimulated as they normally would be, which can result in deterioration over time. Because your implants are placed in your bone, it has to be healthy enough to fuse with them and provide a durable and stable foundation. Some patients may need to undergo a grafting procedure before their surgery so their implants are successful.
If you have a severely damaged tooth, we may recommend that it be extracted in order to place an implant. Not only will this impact the pricing because it's an additional preparatory procedure, but you will also need to let your gums heal before your implant can be placed.
Dental Implant FAQs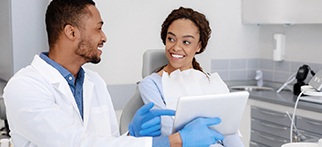 Are you missing one or more of your teeth? If so, you may have heard about dental implants. This amazing tooth replacement offers benefits like strength, beauty, comfort, and naturality, which is why many patients are wondering about them. That's why we've included the answers to some of the most frequently asked questions about dental implants. Keep reading to satisfy your curiosity.
Does the dental implant process hurt?
You may hear about the surgical process required to get dental implants and automatically think that it will be painful. However, the implant specialists we work with ensure that all of our patients are numb and comfortable before beginning. Additionally, it's important to keep in mind that your jawbone doesn't contain many pain sensing nerves, which is why patients who have gotten implants relate the feeling to a simple extraction. The most discomfort you will feel is slight soreness during your recovery.
Can dental implants help with my dentures?
Yes! We're pleased to offer plenty of options for our patients who are missing all their teeth or who are unhappy with their traditional dentures. We can use an average of 4 dental implants to anchor your denture in place. The result is a strong, sturdy, beautiful and complete smile. If you've been struggling with slipping and sliding dentures, contact our office today. We can restore your confidence to eat, drink, and smile without worrying about your teeth shifting out of place.