Dental Implants – Allentown, PA
A Beautiful, Long-Lasting Solution For Tooth Loss
At Marsh Dental, we've found that there are a number of negative outcomes from not replacing missing teeth: a misaligned bite, bone loss in the jaws, and a loss of self-confidence are just a few. Implants are a fantastic replacement option because they replace the entire tooth, including the root. This is what gives them so many fantastic advantages over other options and provides such a natural look and feel. If you'd like to know if implants are right for you, contact us to schedule a consultation with Dr. Marsh or Dr. Pisano-Marsh. We'd love to help you enjoy the benefits of a full smile after tooth loss!
Benefits of Dental Implants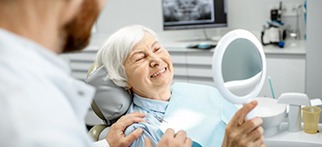 With the many benefits that implants provide, it's no wonder that they're such a popular way to replace missing teeth. They enhance your oral health and overall well-being in so many ways, including:
They look, feel, and function like your own teeth
Total tooth replacement that prevents bone loss and maintains the facial structure
Implants don't affect healthy teeth like a dental bridge would
High success rate (over 95% in non-smokers)
Implants can last many decades – far longer than traditional bridges and dentures
Allow you to eat hard, tough, or crunchy foods
Indications for Dental Implants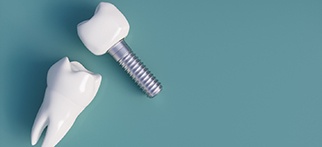 Implants are a fantastic option for many people and, regardless of how many teeth you're missing, there are numerous ways that implants can be used. During your consultation, we'll make the best recommendation based on your particular needs.
Missing Single Tooth
Implants are perfect for replacing a single missing tooth, and will simply be restored with a single dental crown.
Learn More About Single Dental Implants
Missing Multiple Teeth
If you're missing several consecutive teeth, we'll can anchor a dental bridge with just 1-2 implants.
Learn More About Multiple Dental Implants
Missing All Teeth
Patients who have lost all the teeth in their upper or lower arch can benefit from an implant-retained partial or full denture. Like their traditional counterparts, these dentures will have a gum-colored base that supports replacement teeth. Rather than staying in place with clasps, suction, or denture adhesive, we can usually secure these appliances with just 4-6 implants per arch.
Learn More About Implant-Retained Dentures
Understanding the Cost of Dental Implants
As a dentist in Allentown, we create personalized treatment plans that are tailored to your specific needs. Since everyone is different, the final cost can vary quite a bit. For example, some patients may need gum therapy, extractions, or a bone graft before the procedure, which will be factored in during your consultation.
Having said that, our patients have found that their implants have been one of the best investments they've ever made in their oral health. Other replacement options simply don't offer the same benefits. If you're missing teeth and want to know how implants can help you, don't hesitate to get in touch!