Full & Partial Dentures – Allentown, PA
Get the Completed & Functional Smile You Deserve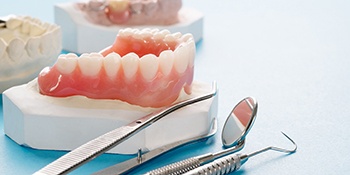 When you look at someone for the first time, what's the first thing you notice about them? You probably answered, "Their smile!" Having gaps in your smile can impact your self-esteem as well as your oral health and daily life. Teeth are an essential part of your everyday life, and without them, you may feel embarrassed and self-conscious. With full and partial dentures in Allentown, you can enjoy a completed and fully functional smile that you can feel proud to let show.
Types of Dentures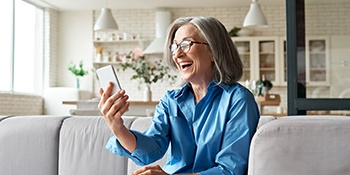 Dr. Marsh and Dr. Pisano-Marsh can replace missing teeth with dentures. This restorative option is a fantastic way to restore several teeth or even a whole row. Below, we've listed three different types of dentures that we offer to our patients to help rejuvenate their grins.
Partial Dentures
Perfectly crafted to fill the spaces in your smile—even if they're sporadic. Your replacement teeth can be custom made to fit between existing natural ones like the perfect puzzle piece.
Full Dentures
A full set of prosthetic teeth attached to a gum-colored base used to restore your ability to speak, eat, and smile confidently. These dentures are ideal to replace full arches of teeth.
Dental Implants
Dentures can provide a secure fit by combining implants with crowns or partial or complete dentures to provide replacement teeth with added support and stability.
Who is a Good Candidate for Dentures?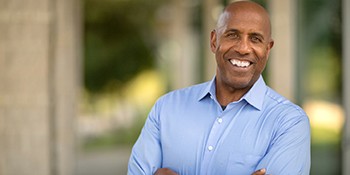 Great candidates for dentures in Allentown are patients who are missing several or all of their teeth along an arch. If you're only missing two or more consecutive teeth, a dental bridge is likely a better choice. We typically wouldn't recommend this tooth replacement solution for patients who have sensitive gag reflexes, suffer from oral cancer, or have flat ridges in their mouth that don't produce suction to stabilize the restoration.
The Benefits of Dentures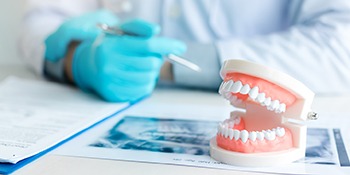 Dentures are a great solution for many patients because they offer a wide array of benefits, including:
Boosted self-esteem
A cost-effective tooth replacement option
Facial muscle support
Improved speech
Allow you to continue eating the foods you like
Most dental insurance plans cover them
Easily removable
Simple maintenance
Maintenance Tips for Dentures
Taking care of your partial or full dentures is important for both the health of your gums and remaining teeth. If they aren't cleaned properly, they can harbor bacteria or become damaged. Whenever handling them, be careful and make sure that you never place them on a smooth surface that they can easily slide off of. Always clean them with a soft denture brush and non-abrasive denture cleaner, and be sure to never use scalding hot water when rinsing them. It's important to rinse your dentures after each time you eat and always store them in a glass of room temperature water while you sleep to help them maintain their comfortable fit.
If you have any questions about how to take care of your dentures or want to schedule a consultation to get fitted for restorations, contact our office today.
Denture FAQs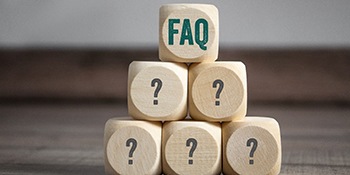 Do you want to know more about dentures? Restoring missing teeth is always an important decision that involves various factors, so it's perfectly normal to have a few questions. We hope you find this denture FAQ section informative and helpful! Below are some of the most common questions we get from patients about full and partial dentures. From the cost of dentures to how long they last, we cover all the denture hot topics.
How Long Do Dentures Last?
With proper home maintenance and regular dental checkups, you can expect your dentures to last between 5 to 10 years. Over the course of your dentures' lifetime, the shape of your face and jaw may gradually change. Dr. Marsh and Dr. Pisano-Marsh can readjust and reline your dentures as needed to keep them comfortable and functional for as long as possible. When your dentures eventually wear down through normal daily use, it will be time to invest in your next set.
Will I Be Able to Eat My Favorite Foods with Dentures?
Eating food with full or partial dentures will almost certainly be easier than trying to enjoy meals while missing multiple teeth. However, you may need to make some slight adjustments to your diet to avoid damaging your dentures. For example, you should stay away from nuts, popcorn, apples and corn on the cob. Here is a brief overview of how the various types of dentures improve dental function:
Partial dentures – Restore 30% or greater of natural chewing range.
Full traditional dentures – Restore 20% of natural chewing function on average.
Implant-retained dentures – Restore 70% or more of natural chewing function.
Can I Sleep While Wearing My Dentures?
We typically recommend giving your gums a rest while you sleep by not wearing your dentures to bed. The nighttime is the perfect opportunity to take your dentures out, clean them, and then let them soak while you sleep. Nightly soaking will help ensure that you wake up feeling refreshed and help keep your dentures in great shape.
How Often Should I Visit a Dentist if I Wear Dentures?
Biannual trips to the dentist are still key to maintaining a healthy smile, even after replacing missing teeth with full or partial dentures. When you visit our office for a checkup, Dr. Marsh or Dr. Pisano-Marsh will evaluate the fit of your dentures and share tips for continued home maintenance. They will also carefully examine the surrounding gums and any remaining teeth for signs of serious oral health issues, such as tooth decay, gum disease or even oral cancer.
How Much Do Dentures Cost?
Worried that restoring your smile is going to break the bank? We have good news: dentures are among the most affordable tooth replacement solutions available today! The cost of dentures typically varies from patient to patient, since every person – and every smile – is unique. In general, the following factors will influence how much you spend on dentures:
The number of teeth you want to replace
The quality of materials used to craft your dentures
The number of remaining teeth that may need to be extracted
Your dental insurance coverage
If you would like assistance determining whether your insurance covers dentures, please do not hesitate to ask our staff for help! Our knowledgeable team is always happy to help patients navigate their insurance coverage and maximize their benefits.