Dentures in Allentown Repairing Smiles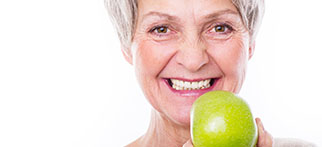 When you look at someone for the first time, what's the first thing you notice about them? You probably answered their smile! It's hard not to notice someone's teeth when they first speak to you, especially if they have missing teeth. If you have missing teeth, you probably have felt someone staring at the gap in your smile. Thankfully, your dentist can offer you dentures in Allentown.
What are dentures?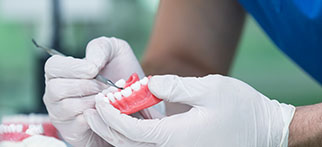 Dr. Marsh and Dr. Pisano-Marsh can work to replace missing teeth with dentures. Dentures aren't just for older patients. Although they do work for severe tooth loss, dentures can be used for less threatening tooth loss as well. This restorative option is a fantastic way to replace several teeth or even a whole row. Let's take a look at the three types of dentures offered in our office can potentially help you.
Partial Dentures
Perfectly crafted to fill the spaces in your smile—even if they're sporadic. Your replacement teeth can be custom made to fit into your smile like the perfect puzzle piece.
Full (Complete) Dentures
A full set of prosthetic teeth attached to a gum-colored base used to restore your ability to speak, eat, and smile confidently. These dentures are ideal for major tooth loss to replace full arches of teeth.
Implant-Supported Dentures
Implant-supported dentures can provide a secure fit that for replacement teeth by combining dental implants with either partial or complete dentures. How can dentures help me?
Our team can provide additional support for facial structure, improve your overall comfort, and provide dramatic aesthetic improvements when you get dentures from your local dentist in Allentown. In fact, today's advancements in technology make creating dentures that look and feel like your natural teeth easier than ever. Here are the benefits that you will experience when you use dentures.
Improved Function & Aesthetics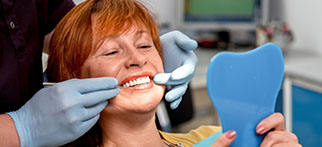 Our dentures are designed to be comfortable, beautiful, and fully functional. We can restore your ability to eat and speak clearly. Our dentures are crafted from high-quality dental materials to perfectly match your natural teeth.
You Can Get Dentures Easily
If you're seriously considering dentures from our office, the process is relatively simple. It starts with a simple consultation to see if you're the perfect candidate. Everyone's mouth is different, our team wants to make sure that you're going to receive the best prosthetic to fit your lifestyle and needs. After all, though, if you have lost any teeth, you may be a suitable candidate for dentures.
If you and either of our dentists agree that dentures are right for you, you can move forward with taking impressions and creating your personalized dentures. You'll have new teeth in no time!
Contact our office today if you would like to schedule an appointment to meet with either of our expert dental professionals. We would be happy to help you discover with dental prosthetics is best fit to help you regain your oral health, aesthetics, and function. Call us today!