Missing Multiple Teeth – Allentown, PA
Fill in the Gaps for a Complete Smile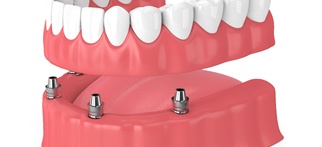 Losing just one adult tooth can have a huge impact on your confidence and how your smile looks and functions. However, more than one missing tooth can cause even more problems physically and mentally. You may want to hide your teeth from sight, leading you to avoid smiling and potentially develop low self-esteem or poor emotional health. Plus, whatever remaining teeth you have can wander out of position and become weaker, and your jaw bone atrophies from a lack of stimulation.
Replacing Teeth without Implants
Depending on your needs, we can offer you several choices for replacing missing teeth, including bridges and partial or full dentures. In all these cases, the prosthetic teeth rest on top of the gums, bringing your smile's beauty back. However, although there are plenty of options that don't involve dental implants, replacing the entire tooth structure, including the root, with implants allows you to enjoy certain benefits that these restorations can't on their own.
Benefits of Dental Implants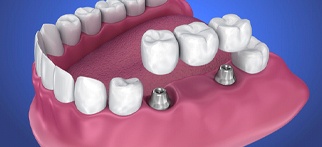 Implant-retained restorations for multiple missing teeth have many advantages over their traditional counterparts, including the following:
No matter your tooth loss situation, there's a dental implant solution that can help you revitalize and strengthen your smile again.
Natural look and feel. Because implant-retained restorations are firmly grounded with the jaw bone, just like natural teeth, you may not even be able to tell which teeth are real or prosthetic.
Strong biting force. Although traditional bridges are bonded into place, dental implants tend to be more secure and allow you regain significantly more biting power and therefore better nutrition.
Preservation of remaining teeth. Instead of relying on whatever healthy teeth you still have left for support, implant-retained restorations become integrated with the jaw bone, allowing you to protect your natural teeth for as long as possible.
Implant Solutions for Multiple Missing Teeth
Over the years, tooth replacement has made huge strides with advancements, including in the following replacement options:
Implant-retained bridge. If you have three or more consecutive teeth missing, this combination is a great way to restore multiple teeth with only two implants on the ends of the gap.
Implant-retained partial denture. Even if you have gaps spread throughout your arch, just a few implants can hold your remaining teeth in place.
Implant-retained full denture. Complete tooth loss doesn't mean that you have to deal with dentures that slip easily out of position when you eat or speak. Four to six implants can hold full dentures in place.
Easy maintenance. Dental implants require the same exact care that you should practice on natural teeth. Just brush and floss daily and visit our Allentown office every six months.
Getting on the Path toward a Healthier Smile
Are you ready to have a discussion about replacing your missing teeth? When you choose dental implants, you are making a long-term investment in your smile that will improve your quality of life for years to come! Schedule your consultation with our experienced team today.