June 24, 2023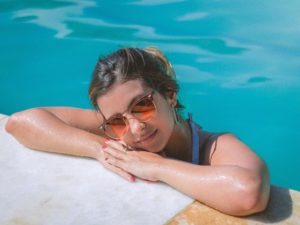 Swimming is a great way to cool off on a hot day or stay active. Whether you're an avid swimmer or only take a dip a few times a year, your favorite activity might come back to haunt your smile. Believe it or not, swimming in water with high levels of chlorine can damage your enamel. Once your enamel is gone, it's gone for good. You don't have to stay out of the pool to protect your smile. Here's what you need to know to safeguard your teeth from dental emergencies.
Swimming Pools Can Erode Enamel
Chlorine is added to hot tubs and swimming pools to kill harmful pathogens. If the concentration is too high, it can erode your enamel. Your enamel is the hardest substance in your body, but it can't regenerate.
Swimming in water with high pH levels can slowly break down your tooth's defense system. Weak enamel increases your risk of tooth sensitivity, cavities, and discoloration.
Brown or yellow teeth can occur if you spend at least 6 hours per week in chemically treated water because chlorine can leave deposits on your teeth.
Swimming Pools and Dental Emergencies
Swimming pools are responsible for many dental emergencies every year, like slipping on a wet deck. Bumping your mouth on a pool ledge can result in chips, breaks, and other injuries. Diving in shallow water can also cause dental accidents.
Protect Your Smile While Swimming
You can avoid dental emergencies and safeguard your pearly whites by:
Checking pH Levels: If you have a pool or hot tub at home, check the pH level at least once a week. You can get an idea of the pH levels in public pools by looking at the ladder and other metal surfaces for signs of erosion.
Rinsing Your Mouth: Rinse your mouth with water after swimming to remove any chlorine clinging to your teeth.
Practicing Pool Safety: Following pool safety rules, like walking on wet surfaces or not diving into shallow water. It's best to wear an athletic mouthguard if you participate in watersports.
Increasing Fluoride: Fluoride is nature's cavity fighter because it strengthens your enamel. Fluorine is added to many public water systems because it's effective at preventing decay. tooth decay. Drink plenty of tap water and choose dental products with fluoride. If you swim often, your dentist may recommend fluoride treatment to keep your enamel strong.
Visiting Your Dentist: Visit your dentist every 6 months for a cleaning and checkup. They'll keep your teeth and gums healthy while detecting enamel loss while it's minor.
Swimming doesn't have to harm your smile if you give your teeth the attention they deserve.
About Dr. Eric Marsh
Dr. Marsh achieved his dental degree from the University of Pennsylvania School of Dental Medicine and has become a Fellow of the Academy of General Dentistry. He strives to provide the latest solutions to preserve each patient's natural smile. Dr. Marsh is affiliated with many professional organizations, including the American Dental Association. Request an appointment through our website or call (484) 550-7602.
Comments Off

on Is Swimming Bad for Your Teeth?
No Comments
No comments yet.
RSS feed for comments on this post.
Sorry, the comment form is closed at this time.