April 12, 2023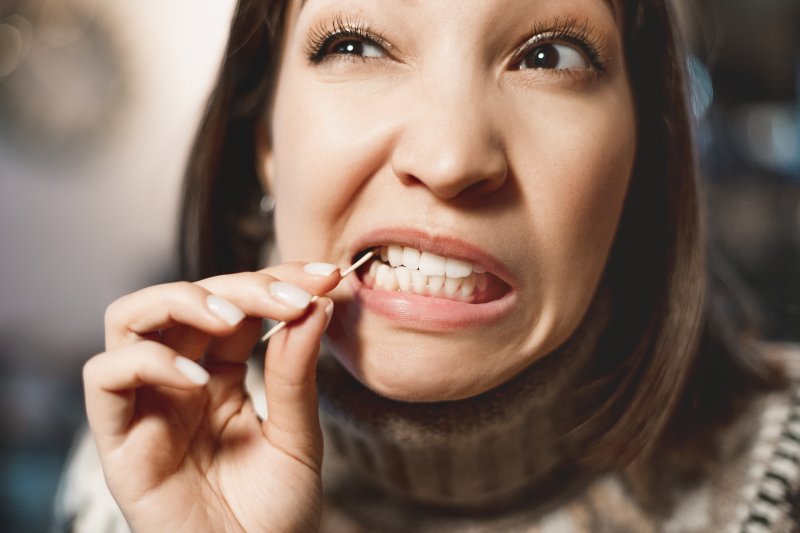 If you're trying to clean your teeth after a meal, you may be tempted to reach for a toothpick. They have the benefit of being everywhere, which means that as you leave any restaurant you can probably get the clean you're looking for.
However, there are some good reasons why you may not really want to use a toothpick—it could be dangerous! If you're interested, here's how they could do more harm than good for your smile.
How Can Toothpicks Damage My Mouth?
Wanting to clean your mouth is a good instinct, but there are better ways to do it than a toothpick. Even if you're careful there are just too many ways that it can go wrong.
For one, cheap toothpicks have been known to break under pressure. The tip can snap off and get lodged in between your teeth, in some cases needing a dentist to remove it.
However, that's honestly the least of your concerns. If you slip, you could potentially slash or stab your tongue or gums. It's not unheard of for toothpicks to even become lodged in the roof of someone's mouth. This is an emergency that requires immediate medical attention, so it's best to avoid it as best as much as possible.
What to Use Instead
If you want to get nice and clean after a meal, there are lots of better ways to do that. Dental floss is the obvious one; not only is it completely safe, but you can get a much deeper clean than you can with other kinds of tooth cleaning.
If you don't want to carry a full spool of dental floss with you, you could also use floss threaders. These are little plastic "y"s with a section of floss in them. They're arguably a little bit easier to use than traditional floss.
Finally, if you miss the feeling of a toothpick, you might like an interdental brush. These are similar in shape to a toothpick but also have a plastic brush at the end designed to fit between the teeth. This allows you to "pick" out food without the potential of injury.
About Our Practice
Welcome to the office of Dr. Eric Marsh and Dr. Michele Pisano-Marsh! If you're looking to do something that can better your smile, everyone at our dental office will go out of their way to ensure that you get the quality, comfortable care that you deserve. No matter what it is you need, we can give make use of the latest dental technology to help you.
If you have any questions about how best to clean your teeth, we can be reached at our website or by phone at (610) 432-8037.
Comments Off

on Why Toothpicks Are Dangerous
No Comments
No comments yet.
RSS feed for comments on this post.
Sorry, the comment form is closed at this time.