March 9, 2023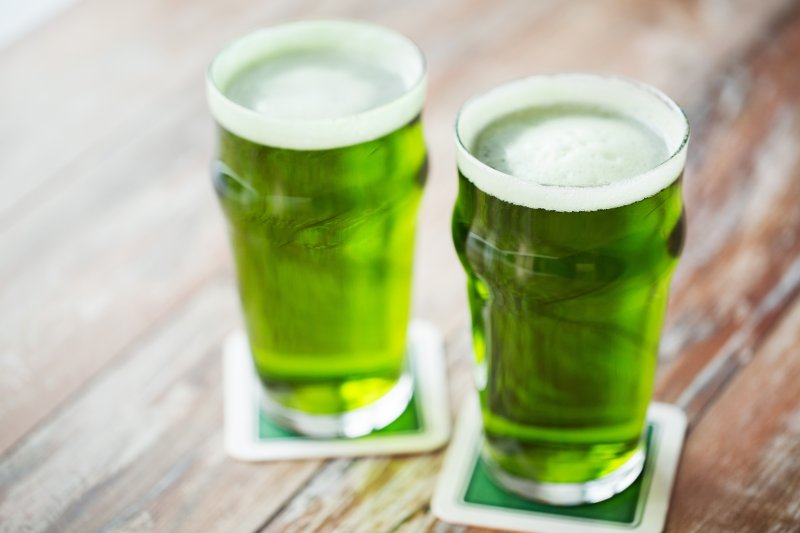 St. Patrick's Day is about two things: celebrating Irish heritage, and beer. And for some people, the beer might be a little more important. Whether it's dyed green, dark and frothy, or just whatever your cousin brought to the barbecue, the day doesn't feel complete if you haven't had a pint or two.
However, alcohol can have some pretty significant effects on your teeth, especially the beer you'd likely drink on St. Patrick's Day. If you want to know what those threats are, and how you can deal with them, here's a guide that may be able to help you.
Threats Posed by St. Patrick's Day Beer
There are two main ways that alcohol, and beer in particular, can damage your teeth. They are:
Discoloration
Lots of bars will sell a light beer that has been dyed green on St. Patrick's Day. As you may have experienced, green food coloring sticks to plaque deposits along the gum line, which can expose you if you haven't been taking the best care of your teeth recently.
However, the more long-term threat comes from naturally dark beers, like Guinness, that are popular this time of year. Like with coffee or red wine, the dark pigments in this drink can set into the teeth, causing discoloration over time.
Dry Mouth
Alcohol also dehydrates you, which is what causes such awful hangovers the next day. This has the side effect of drying out your mouth. Saliva is ordinarily what cleans food particles off of your teeth and carries them into your stomach; in that way, it's like the mouth's natural cleanser.
When you have less saliva to work with, more of the food you eat sits on your teeth, feeding the decay-causing bacteria that live there.
How to Drink Safely on St. Patrick's Day
If you want to counteract the negative effects of beer, there are a few things you can do. The first is to stay hydrated—water facilitates saliva production, which can help you break down food.
You should also brush your teeth before and after drinking. By brushing before, you'll have fewer plaque deposits for beer to stick to. Brush after to clean up any leftover food or alcohol.
Finally, it wouldn't hurt to schedule a checkup and cleaning for after the holiday. Hopefully, your dentist can help you undo some of the damage from the festivities.
About the Authors
Dr. Eric Marsh and Dr. Michele Pisano-Marsh are a team of husband-and-wife dentists, both of whom are united in their commitment to helping their patients get the smiles of their dreams. They each have over three decades of experience in dentistry, and will work together to combine their experience into a treatment plan tailored perfectly to you!
If you have any questions about how to drink and protect your teeth, they can be reached at their website or by phone at (610) 432-8037.
Comments Off

on How to Protect your Smile this St. Patrick's Day
No Comments
No comments yet.
RSS feed for comments on this post.
Sorry, the comment form is closed at this time.