February 7, 2023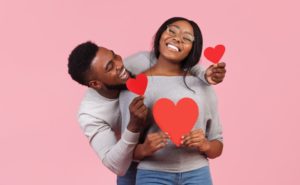 Valentine's Day is approaching and it's time to get ready for that special date. When it comes to dating, many people want to look their best. They buy a stylish outfit, get a new haircut, and maybe even wash the car. However, another important part of the package to remember is your smile! It may surprise you to know that your dating life can be impacted by the state of your oral health. Read on to learn more about the connection between your love life and your pearly whites…as well as tips to make your smile luminous for February 14!
How Your Dental Health Can Impact Your Dating Life
While connecting with someone certainly goes deeper than appearance, initial attraction is important when you go on dates with people. Your smile can play a big part in being appealing…and vice versa! According to a Match.com survey of over 5,000 people, 58% of men and 71% of women believe healthy teeth are by far the most attractive feature. This means that a vast majority of people place more value on your pearly whites than other physical attributes like hair, nails, or body type.
Researchers believe that the reason a beautiful smile impacts dating is due to the fact that people correlate white, clean teeth with good hygiene and genetics. Your smile can also be an indication of the level of care you have for your dental health to a date. In fact, 74% of women believe good oral health is one of the sexiest qualities a person can have. So, as you prepare for your Valentine's Day date, take the time to take proper care of your grin, too!
Tips to Improve Your Smile
The good news is that there are many steps you can take to improve your teeth and increase the possibility of finding your soul mate! Keep these tips to keep in mind:
Practice good oral hygiene. As recommended by the Centers for Disease Control and Prevention, it is essential to brush your teeth twice a day for at least two minutes each time and floss daily. Not only will this keep your breath fresh, but it will also protect your mouth from harmful bacteria.
Kick bad habits to the curb. Poor dental habits like smoking or using tobacco can stain your teeth, increase the risk of gum disease, and contribute to bad breath. Additionally, remember not to use your teeth as tools…you don't want a chipped tooth before a hot date!
Visit your dentist regularly. By maintaining your biannual checkup and cleanings, you can keep your smile bright and healthy, as well as catch any oral health issues before they become serious problems.
Seek cosmetic treatment – If you are unhappy with any dental flaws, such as stains, chips, or small cracks, there is always the option for cosmetic dentistry. Procedures like professional teeth whitening and veneers can give you the smile of your dreams!
So, as you can see, a healthy and bright smile can go a long way in the dating world. With these helpful tips and assistance from your dentist, you will be beaming on every date you go on!
About the Practice
Dr. Eric J. Marsh and Dr. Michele A. Pisano-Marsh keep the smiles of Allentown healthy and beautiful. They offer a full range of comprehensive dental services, including cosmetic treatments like professional teeth whitening and veneers. With a focus on comfortable patient care with state-of-the-art advancements in dentistry, they can help you achieve any of your oral health goals. To schedule an appointment, visit their website or call (484) 550-7602.
Comments Off

on Is Your Smile Ready for Your Valentine's Day Date?
No Comments
No comments yet.
RSS feed for comments on this post.
Sorry, the comment form is closed at this time.