December 7, 2022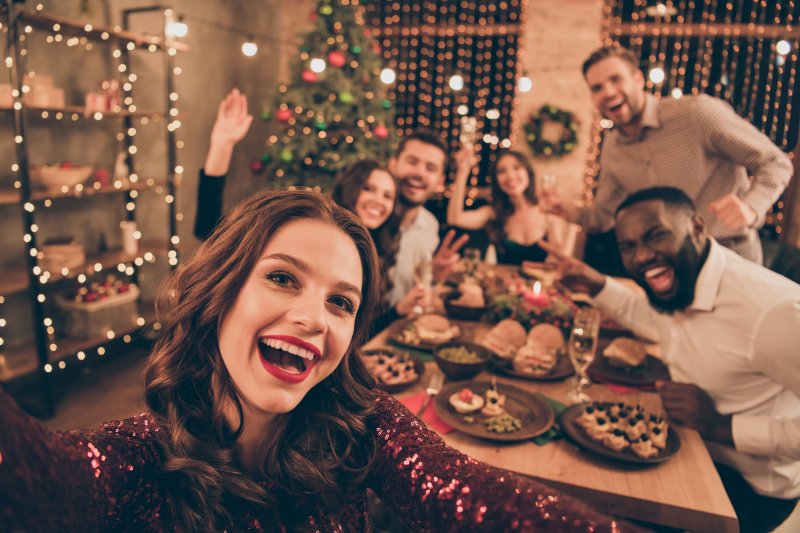 Are you excited about visiting your family and friends during the holidays? Other than watching Christmas movies and playing fun games, you're bound to enjoy chowing down on all your favorite festive meals. Although many foods can take a toll on your pearly whites, certain habits can also worsen your oral health in the long run. Read on to learn what they are and tips for protecting your smile during the holidays and beyond!
Why Are the Holidays the Worst for Your Smile?
With all the excitement and delicious foods, you might end up making a few changes in your daily routine during the festive season. Here are several of the most common habits that can wreak havoc on your teeth:
Overindulging in Sugary & Starchy Treats
Most people know that sugar isn't healthy for your smile, as it can increase your risk of dental decay. That said, the winter season typically brings plenty of sweets and pastries that are heavy with sugars and starches. These components can end up being fuel for harmful bacteria, which can then form acids that will wear down your protective enamel. If left untreated, it can develop into cavities.
Snacking Throughout the Day
Do you typically munch on your favorite sweets or leftovers from the last family dinner throughout the day? It's important to remember that constantly eating instead of enjoying separate meals can place unnecessary stress on your gums and teeth. Without enough saliva to wash away natural bacteria and debris from your mouth, it can result in a higher risk of cavities or gum disease.
Changing Your Oral Health Routine
If you plan on traveling for the holidays, it can be easy to make sudden changes to your oral hygiene routine. This means you might forget to brush your teeth twice a day like normal, or you stay up late and forego your usual flossing regimen. To avoid experiencing any complications, you'll want to ensure you bring your dental hygiene products while on vacation.
Essential Tips for Preserving Your Teeth
Here are several ways you can significantly lower your risk of developing cavities and other oral health problems:
Keep a toothbrush and floss whenever you travel (and a mini-mouthwash)
Drink plenty of water with your meals, especially if you're snacking
Stick with healthier, vitamin-rich foods like turkey, yogurt, carrots, spinach, cheese, and nuts
Avoid overindulging in sugary treats, or pick those with less sugar, such as dark chocolate
Keep away from dark-pigmented foods that can stain your teeth, like cranberry sauce
You don't have to sacrifice your oral health to enjoy the festive season. Keep these few tips in mind during the holidays, and you'll be able to show off a happier and healthier smile in the long run!
About the Author
Dr. Eric Marsh earned his dental doctorate from the University of Pennsylvania School of Dental Medicine. He's also a member of various organizations like the Academy of General Dentistry and the American Dental Association. He provides a wide range of advanced high-quality services, including dental checkups/cleanings, fluoride treatment, fillings, and periodontal therapy. If you'd like to schedule an appointment, visit his website or call 610-432-8037.
Comments Off

on Are the Holidays a Bad Time for Your Teeth?
No Comments
No comments yet.
RSS feed for comments on this post.
Sorry, the comment form is closed at this time.