September 8, 2022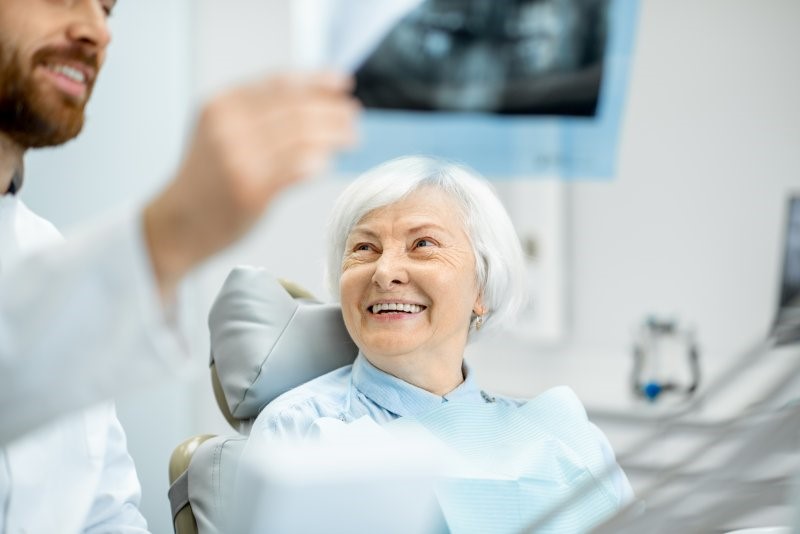 Maintaining a healthy mouth starts with excellent oral health. This means brushing twice per day for two minutes, flossing every night, and visiting your dentist every six months. Though dentists are often thought of as doctors who focus on your teeth, they care about a lot more than that. That's why even people who wear full dentures need to visit the dentist twice per year. Read on to learn 4 reasons why dental checkups with full dentures are such an important part of maintaining a healthy smile.
Reason #1: Maintain Great Oral Hygiene
Taking care of your dentures looks a little different than taking care of your natural teeth. While teeth need to be brushed twice and flossed once daily, dentures need to be thoroughly cleaned every night to remove buildups of bacteria and food particles. You will also need to soak your restorations overnight to eliminate any bacteria you missed while brushing.
Along with keeping your restorations fresh and clean, taking them off every night will also give your gums a break since they are likely to be a bit sore after wearing your dentures all day. Additionally, attending biannual dental checkups with dentures will allow your dentist to examine your restorations. They'll keep an eye out for any signs that you can improve your hygiene routine.
Reason #2: Detect Issues Early On
Going to dental checkups with dentures biannually also helps you prevent oral health problems. Your dentist will examine your oral cavity during your appointment, keeping an eye out for things like dry mouth, gum disease, or oral cancer. If they notice signs of any of these conditions, they will work with you to come up with a treatment plan before things get any worse.
Reason #3: Adjust Your Dentures for Maximum Comfort
When you're missing teeth, this means that the jawbone in those areas will no longer receive the stimulation it needs. Because of this, your jawbone will start to erode over time, which will cause your dentures to slip and not fit your mouth the way they're supposed to. Dental checkups with dentures will let your dentist determine if your restorations fit properly. If not, your dentist will make the necessary adjustments.
Reason #4: Prolong the Life of Your Dentures
Full dentures have an average lifespan of five to 10 years. Even so, they will only last that long if you are diligent about caring for them. That means attending dental checkups with dentures every six months. This will allow your dentist to examine them and determine if they're still in good condition. If not, they will either repair or replace your restorations.
Whether you have all, some, or none of your natural teeth left, it's important to visit your dentist. By going to dental checkups with dentures, you can maintain a healthy mouth and a well-fitted, realistic smile!
About the Author
Dr. Eric J. Marsh and Dr. Michele Pisano-Marsh are a husband and wife team that loves using their skills in the field of dentistry to provide their Allentown patients with the exceptional oral health care they deserve. They offer tooth replacement options like dentures to patients who are missing one, several, or all of their pearly whites so they can get back to having a full, confident smile. If you want more information about dental checkups with dentures or make an appointment, call their office at (610) 432-8037 or visit their website.
Comments Off

on 4 Reasons to Attend Dental Checkups with Dentures
No Comments
No comments yet.
RSS feed for comments on this post.
Sorry, the comment form is closed at this time.