April 3, 2022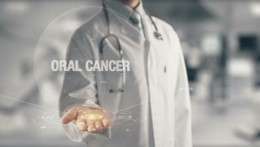 April is Oral Cancer Awareness Month, and we're bringing attention to this serious disease that claims over 11,000 lives annually (per the American Cancer Society). Despite constant advancements in science and healthcare, there is still no way to fully cure oral cancer, and many people receive a late diagnosis that makes treatment very difficult. However, there are many signs and risk factors to be aware of when it comes to oral cancer, and a little prevention can go a long way towards preserving your health and smile. Keep reading to learn more.
What Increases My Risk of Developing Oral Cancer?
Scientists aren't certain what exactly causes oral cancer, but they've been able to link it to a few different things:
Smoking and tobacco use (cigarettes, cigars, pipes, smokeless and chewing tobacco)
Excessive alcohol use
Human Papillomavirus (HPV)
A weakened immune system
Sun or radiation exposure
Other types of head or neck cancer
Old age
How Can I Minimize My Risk of Oral Cancer?
The best thing you can do to minimize your risk of oral cancer is to arm yourself with knowledge: preventing oral cancer lines up with making smart and healthy lifestyle choices and knowing what to put into your body, as well as what to avoid. The most important choice of all is to never start smoking or quit if you already do—though it's impossible to fully prevent oral cancer, smoking is notorious for putting you at risk!
You can also take measures to fortify your body and immune system; eating a well-balanced diet consisting of lean proteins, healthy fats, and plenty of hearty fruits and vegetables can do a lot for your body and increase your overall level of protection.
Also show caution when consuming hot beverages, as burns inside of your mouth can easily lead to bacterial growth and infection. Also consider protecting the outside of your mouth—wearing SPF lip balm and limiting your mouth's exposure to the sun are both advisable.
What Warning Signs Should I Watch For?
Oral cancer can be found anywhere in and around the mouth—this means your lips, cheeks, tongue, gums, and throat are all susceptible! Here's what you need to look out for:
Swelling in your neck
Lumps in your cheeks
Mouth sores on the gums, tonsils, and lining of the mouth
Difficult chewing, swallowing, speaking, or moving your jaw and tongue
Constant bad breath
Loose teeth
If you have symptoms that last for two or more weeks, contact your dentist immediately. Inaction will greatly increase the risk of a serious problem developing.
Oral cancer is serious, but you don't have to let it scare you—there are many preventive measures you can take and knowing what to look for will help you stay healthy and happy for the long haul.
About the Author
Dr. Eric J. Marsh and his wife Dr. Michele A. Pisano-Marsh proudly serve patients and families in the Allentown area. They each have almost 30 years of experience in dentistry and are passionate about helping their patients achieve a healthy and beautiful smile. Their practice offers a wide variety of dental services including preventive options like oral cancer screenings. If you would like to schedule an appointment, feel free to reach out through their website or by phone: (610) 432-8037.
Comments Off

on What You Should Know About Oral Cancer
No Comments
No comments yet.
RSS feed for comments on this post.
Sorry, the comment form is closed at this time.