March 17, 2022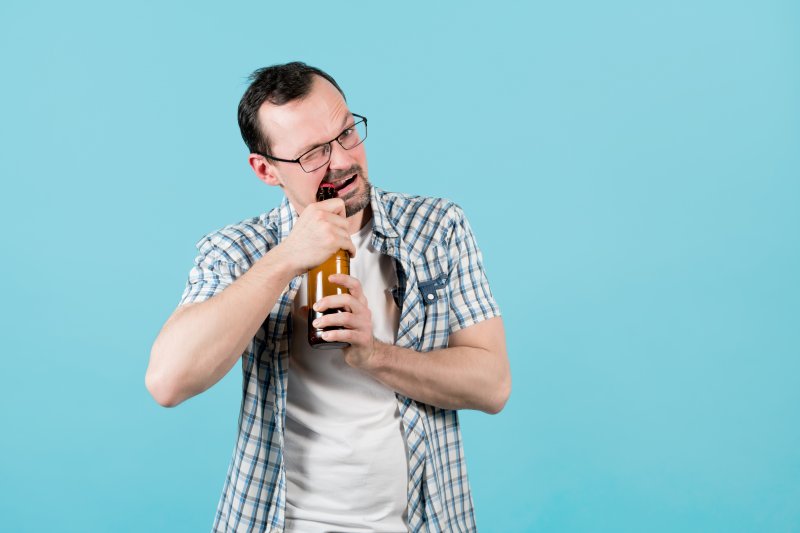 Getting dental implants to replace missing teeth is a great way to complete the look of your smile while also preventing oral health issues from developing. As long as you take good care of them, your implants can give you a lifetime of stable, sturdy pearly whites. Several bad habits need to be avoided to prevent implant failure so you can maintain a gorgeous grin. Read on to learn about five things you need to avoid to keep your new teeth looking and functioning as intended.
Habit #1: Bad Oral Hygiene
If you don't brush twice per day and floss before bed, this can hurt your oral health. This can lead to gum disease, which is an infection of the gums that can lead to gum recession, jawbone erosion, loose teeth, and even loss of your pearly whites or dental implants.
Habit #2: Consuming Too Much Sugar
The sugar in the foods and drinks that you consume feeds oral bacteria, which then release acids that attack your tooth enamel. This causes it to weaken and makes your smile more susceptible to cavities. If the decay gets bad enough, your teeth may fall out or need to be pulled. These new gaps in your smile will cause your teeth and implants to shift to fill the gaps, which will weaken them over time and may lead to additional tooth loss.
Habit #3: Smoking or Chewing Tobacco
Lifestyle choices like smoking or using other tobacco products can also jeopardize your new smile. The likelihood of developing gum disease is at least twice as likely for smokers as opposed to nonsmokers. Even worse, they're 10 times as likely to develop oral cancer and several other kinds of cancer. These conditions can cause you to lose both your remaining teeth and your dental implants, so speak with your dentist, doctor, or therapist if you need help quitting.
Habit #4: Biting Non-food Items
Using your teeth to open bottles and packages or chewing on non-food items like pen caps and ice can damage your smile by cracking or chipping your implant restorations. Make sure to have the correct tools on hand or chew on sugar-free gum to avoid the temptation and keep your mouth occupied.
Habit #5: Skipping Dental Checkups
Biannual checkups include a thorough cleaning of your teeth and around your gums to remove buildups of plaque and tartar. They also allow your dentist to check to see if you have any oral health issues that may jeopardize your implants so they can administer treatment before things get any worse.
By replacing missing teeth with dental implants, you can keep your smile looking its best. just make sure to avoid these five bad habits so you can maintain healthy pearly whites for years to come!
About the Practice
If you're looking to replace one or more missing teeth, you've come to the right place. Drs. Eric J. Marsh and Michele Pisano-Marsh lead a team of exceptional Allentown oral health professionals who can help you complete your smile. They work with implant specialists who ensure that you feel comfortable throughout treatment so you can achieve your new smile pain-free. Do you want to make an appointment with Drs. Marsh and Pisano-Marsh or are you interested in learning more about dental implants? If so, call them at (610) 432-8037 or visit their website to get started on your smile journey.
Comments Off

on 5 Bad Habits to Avoid with Dental Implants
No Comments
No comments yet.
RSS feed for comments on this post.
Sorry, the comment form is closed at this time.