September 3, 2021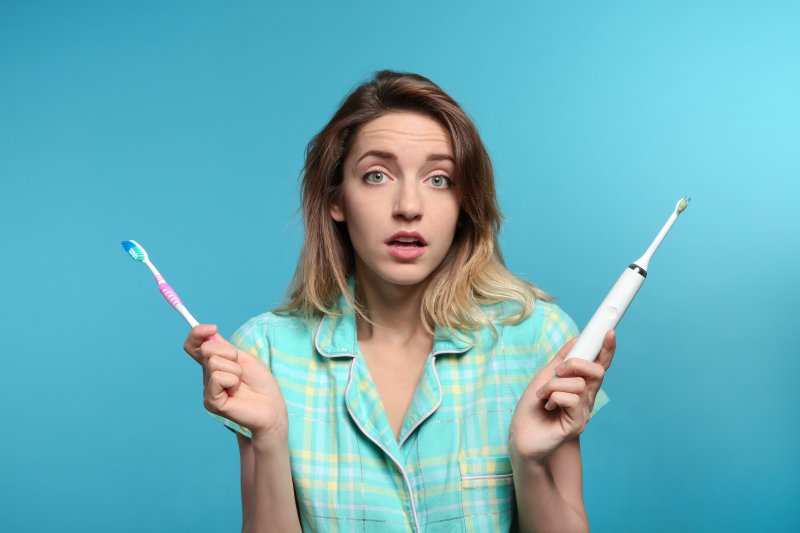 On average, Americans brush their teeth for 45 to 70 seconds per day. This is less than half the recommended brushing time of two minutes twice a day. While brushing your teeth is a vital part of proper preventive oral health care, using the right kind of toothbrush is also important. Many people believe that electric toothbrushes clean their teeth better than manual ones, but is that actually the case?
Benefits of Manual Toothbrushes
The first mass-produced toothbrush was created by William Addis around the year 1780. H. N. Wadsworth was the first American to patent a toothbrush in 1857, and mass production of toothbrushes began in America around 1885. While they may not be as high tech as electric toothbrushes, they are still an effective tool for cleaning your teeth. Benefits of manual toothbrushes include:
Easily accessible since they can be purchased at most grocery stores, gas stations, dollar stores, or pharmacies
Easy to maintain since there is no need for charging, battery replacement, or additional accessories
Manual toothbrushes are cost-effective and can usually be purchased for just a few dollars
Can help you feel like you have more control over the brushing process, including how hard the pressure is on your teeth
Lightweight and easy to travel with
Benefits of Electric Toothbrushes
Though electric toothbrushes cost more than manual ones, they offer a range of additional benefits. Beyond the simplicity of use, other benefits include:
Many offer multiple speed settings
Require immensely less effort than manual brushing and can be useful for people with mobility issues such as carpal tunnel syndrome, arthritis, and developmental disabilities
According to the Journal of Contemporary Dental Practice, they are up to 17% more effective in plaque removal than manual toothbrushes by promoting a deeper clean
Some come with built-in features such as pressure sensors, timers, and reminders when it's time to replace the toothbrush head
Since they generally need to be replaced less often than manual toothbrushes, less waste is created
Can improve oral health in people with braces and other orthodontic appliances
Additional scouring power makes it easier for users to remove stains and brighten their smile
If you are maintaining good oral hygiene with your current toothbrush, then there's no need to switch. But, if you're interested in the added perks of an electric toothbrush, it may be worth a try. While both types of brushes offer an array of benefits, your dentist can help you decide which is best for you based on your unique oral health needs.
About the Author
Dr. Eric Marsh, Dr. Michele Pisano-Marsh, and the rest of the Allentown team are committed to providing comfortable, quality care. They offer an abundance of comprehensive services, full-service care, and personalized treatment plans for patients of all ages. They strive to stay current on the latest dental developments through continuing education and are truly passionate about providing superior service through open communication and a more personal approach to care. For more information about the benefits of manual and electric toothbrushes as well as what kind of brush is right for you, visit our website or call us at (484) 550-7602.
Comments Off

on Electric VS Manual Toothbrush – Which Is the Better Choice?
No Comments
No comments yet.
RSS feed for comments on this post.
Sorry, the comment form is closed at this time.