August 4, 2021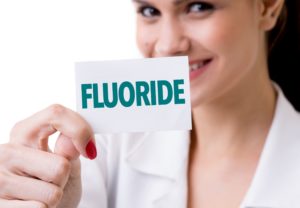 Fluoride has been a hot topic in the dental field for decades. Debates about its oral health benefits date back to the 1940s; however, about two-thirds of the U.S. population has fluoridated public water. Although there are a few controversies surrounding the risks of fluoride, it is still considered one of the top 10 most important public health measures of the 20th century. With contradictory information all around you, it can be difficult to determine if fluoride should be part of your dental care. Don't worry, here are the facts you need about fluoride to promote a healthy smile.
How Does Fluoride Benefit Dental Health?
Fluoride is a naturally occurring substance that's found all around you, from the water to the soil. Although it's abundant in nature, dental professionals recommend getting fluoride from other means as well, which led to the first fluoridated toothpaste in 1955.
Known as "nature's cavity fighter," fluoride is proven to strengthen the enamel to make it more resistant to decay. It can also remineralize areas of weakened enamel to safeguard against cavities. Besides a variety of products on the market, many dentists throughout the country include fluoride treatments in their preventive services.
Despite the proven advantages of fluoride, some people are skeptical about its safety because it can cause a condition called fluorosis. Before the U.S. Department of Health and Human Services enforced the amount of fluoride added to water sources, many children developed imperfections with their enamel, like white sports. The defects are only aesthetic and don't compromise the health of the tooth. There have also been discussions about fluoride potentially increasing the likeliness of other issues as well, like thyroid disorders and bone fractures; however, the benefits outweigh the risks.
Is Fluoride Safe?
Contrary to the ongoing debates, fluoride is considered safe and effective at preventing tooth decay. The Centers for Disease Control and Prevention and the U.S. Department of Health and Human Services support adding no more than 0.7 milligrams of fluoride per liter of water, which is lower than the 1.2 milligrams recommended in 1962. As a result, the risk of fluorosis and other complications are significantly reduced.
Invest in the Power of Fluoride
Your teeth are meant to last for a lifetime with the proper care over the years, like brushing and flossing. You can give them an added layer of protection by adding a fluoride toothpaste to your daily routine. There are even gels and mouthwashes you can use to keep your teeth strong. Don't forget to ask your dentist about adding a fluoride varnish to your treatment plan during your next semi-annual cleaning and checkup.
About Dr. Eric Marsh
Dr. Marsh earned his dental degree at the University of Pennsylvania School of Dental Medicine. He is an advocate for fluoridated water in the city of Allentown to create generations of healthy, beautiful smiles. If you have any questions about the benefits of fluoride, contact our office today to speak with a member of our team.
Comments Off

on Is Fluoride Really Safe for Your Teeth?
No Comments
No comments yet.
RSS feed for comments on this post.
Sorry, the comment form is closed at this time.