May 27, 2021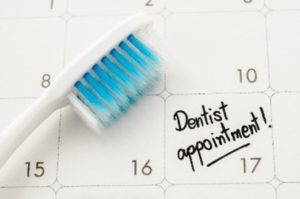 Your teeth say a lot about you and the way you feel about your appearance. If you don't like your teeth, you likely avoid smiling or taking pictures. You may even skip social engagements because of your insecurities. You don't need to hide any longer. Your dentist can revamp your smile and give your confidence a boost with cosmetic procedures. Although you're ready to invest in your self-esteem, you might be concerned about how long cosmetic dental work will take? There isn't any reason to worry. Here's what you can expect while on your journey to a beautiful smile.
How Long Will the Process Take?
There isn't any way to determine how long the transformation process will last without first having a consultation for a smile makeover because every plan is unique. Your cosmetic dentist will create a strategy catering to your concerns to reach your goals. They will provide you with an estimated time of completion, depending on the type of procedure required, such as:
Porcelain Veneers
If you want to achieve drastic results quickly, porcelain veneers may be the solution for you. A veneer is bonded to the front surface of a tooth to instantly hide a variety of imperfections, like chips, cracks, and gaps. You'll improve the overall color, size, and shape of the tooth. After your initial consultation, it typically takes 2 appointments to enjoy natural-looking results that can last for a decade or longer.
Metal-Free Restorations
Don't fret about a dark crown or filling blemishing your smile. Metal-free restorations are made of tooth-colored material to blend in with your teeth. Tooth-colored fillings can be placed in one day while dental crowns will require more than 1 visit.
Direct Bonding
Minor aesthetic flaws can be resolved in a single appointment with direct bonding. A composite resin material is customized to match your enamel to look natural. It can be used to fix several imperfections, like chips and exposed tooth roots. If only a tooth or two are being treated, the process can be performed in 1-2 hours; however, if you're improving several teeth, you may need more than one appointment.
At-Home Teeth Whitening
At-home teeth whitening allows you to turn back the clock to achieve a brighter smile. Your teeth can become as many as 8 shades whiter from the comfort of home. After your consultation, your dentist will give you everything you need to whiten your teeth over the next 2 weeks. You'll advantage from professional results that can last.
Enjoy a Flawless Smile Today
Your dentist knows your time is valuable, which is why they use the latest technologies and techniques. You'll spend less time in the dental chair as you achieve your dream smile.
About Dr. Eric Marsh
Dr. Marsh earned his dental degree from the University of Pennsylvania School of Dental Medicine in 1988. Over the course of his career, he has regularly continued his training to provide specialty services, like cosmetic dentistry. As a member of the American Dental Association, he's a reputable choice for elective treatments. Contact our office today to schedule your consultation.
Comments Off

on How Long Does Cosmetic Dentistry Take?
No Comments
No comments yet.
RSS feed for comments on this post.
Sorry, the comment form is closed at this time.