April 11, 2021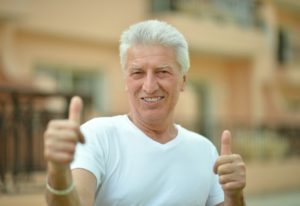 Living without a full set of teeth has been quite a hassle. Thankfully, you can finally have your smile and functionality restored with dental implants. Because a minor surgical procedure is required to place the implants, you're concerned about how much pain you'll experience. Is there really anything for you to worry about, though? Continue reading to find out!
This Should Ease Your Concerns
Before the implantation procedure gets underway, the dentist will make sure that your mouth is completely numb. This is accomplished by either using general or local anesthesia. During the surgery, the only thing you'll feel is slight pressure, but absolutely no pain.
How the Dental Implant Process Works
Once your mouth is numb, a space is created in your gums and jawbone for the cylinder-shaped titanium post (implant) to be placed. After the post is inserted and sufficiently secured, a protective cap is added to keep the treatment area safe while it heals over the next few months. In some cases, the gums will be stitched to further encourage healing.
Responding to Post-Surgery Discomfort
Within a few hours of your surgery's completion, the numbness will wear off, but that doesn't mean that you'll be left in excruciating pain. In most situations, the discomfort that patients feel is less than that of having a tooth extracted.
In the rare cases where there is intense pain, it could be a sign of an improperly fitted implant or infection. Gladly, the dental implant process has a 95% success rate across the board. Therefore, you can feel confident about having a positive outcome.
Here's what you can generally expect to happen after the surgery is completed:
Facial swelling
Slight discomfort in the face and jaw for around 10 days
A gradual decrease in the pain and swelling after the third day
Typically, dentists recommend an over-the-counter pain reliever like ibuprofen (Advil, Motrin, Aleve, etc.) to address any pain and inflammation. Additionally, applying ice to the outside of your face will help reduce any swelling.
After 24 hours, you can resume brushing your teeth, being sure to safely maneuver around the treatment site. You'll need to exercise extreme care throughout the healing process. It's also helpful to use a mild salt-water rinse several times throughout the day to control the growth of oral bacteria.
When it comes to replacing any number of missing teeth, dental implant surgery stands in a class of its own. Now that you know that you have nothing to fear, you can proceed with receiving a fully operational and attractive set of teeth that will last for many years to come!
About the Author
Dr. Eric Marsh earned his dental degree from the University of Pennsylvania School of Dental Medicine. For over 20 years, he has been providing top-notch dental care. A Fellow in the Academy of General Dentistry, Dr. Marsh stays abreast of the latest techniques and technological breakthroughs in dentistry by taking several hours of continuing education annually. He places dental implants to restore his patients' smiles and confidence at his private practice, and he can be reached for more information through his website.
Comments Off

on Should You Expect Pain During Dental Implant Surgery?
No Comments
No comments yet.
RSS feed for comments on this post.
Sorry, the comment form is closed at this time.