February 26, 2021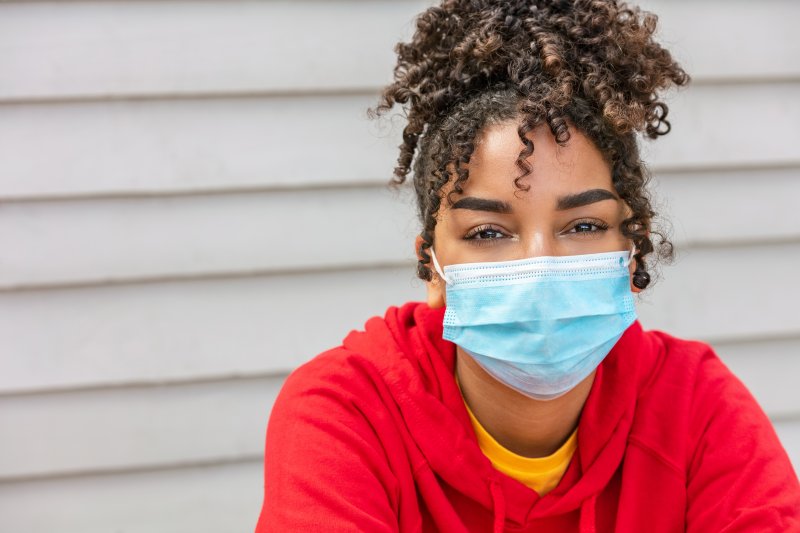 In a matter of weeks, the first anniversary of the COVID-19 shutdown will be here. In the last 12 months, our daily lives have been turned upside down to accommodate sanitation and safety guidelines put forth by organizations like the Centers for Disease Control and Prevention. Arguably one of the biggest changes has been the face mask mandates. While these coverings have played a crucial role in reducing the transmission of this novel virus, there has been some collateral damage. Keep reading to learn more about the link between face masks and declining oral health.
The Link Between Face Masks & Declining Oral Health
At first, it seemed like the only downside of wearing face masks constantly was being confronted with the smell of our own breath. However, dentists across the U.S. have realized that the oral health of their patients is being negatively affected as well. In fact, one dentist shared with the New York Post that roughly 50% of patients are being impacted by an emerging trend called "mask mouth." This term is used to describe the dental problems stemming from unhygienic practices related to the increased use of face masks. Although extensive research is still underway, the damaging effects are undeniable.
Dangers of Mask Mouth
Although research is still underway on the exact correlation between face masks and oral health, it is believed that dry mouth due to decreased water consumption and increased mouth breathing while wearing a mask are the source of the problem. Unfortunately, this COVID-19-related condition can wreak serious havoc on your oral health. A few of the dangers include:
Increased tooth decay.
Inflamed gums.
Chronic bad breath.
Gum disease.
7 Prevention Tactics to Implement Today
Fortunately, you don't have to stop wearing your face mask to protect your oral health. Instead, you can implement the below prevention best practices:
Drink plenty of water.
Brush for two minutes at least twice a day.
Treat flossing as important as brushing.
Visit your dentist every six months for a dental checkup and cleaning.
Limit sugary foods and beverages.
Breathe through your nose.
Use mouthwash regularly.
Since March 2020, extensive research has been done on COVID-19. While more studies are to come on the exact link between the Coronavirus and oral health, the presence of mask mouth is already evident. Therefore, make sure to implement the above prevention tactics to keep your teeth and gums in tip-top shape throughout the pandemic.
About the Practice
Led by Dr. Eric Marsh and Dr. Michele Pisano-Marsh, we are excited to provide patients in Allentown with a comprehensive array of services centered around quality care, superior dentistry, and a comfortable patient experience. Whether you are struggling with a painful toothache, are exhibiting symptoms of gum disease, or are simply overdue for your biannual dental checkup, we will help you take the necessary steps to maintain or restore your oral health and beautiful smile. Visit our website or give us a call at 610-432-8037 to learn more about mask mouth or to schedule your appointment.
Comments Off

on COVID-19 & Oral Health: How Face Masks Are Affecting Your Teeth and Gums
No Comments
No comments yet.
RSS feed for comments on this post.
Sorry, the comment form is closed at this time.