October 13, 2020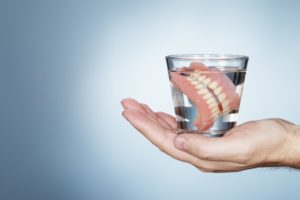 According to recent studies, it's estimated that 178 million Americans are missing at least one tooth, and about 40 million don't have any teeth at all. However, tooth loss certainly isn't a new problem. Thankfully, dentures of today look and feel very different than the ones worn by President George Washington. In fact, dentures were helping people regain their smiles long before the first president of the US began to lose his teeth. Read on to learn more about the fascinating evolution of dentures and why they're still such a popular choice for replacing missing teeth in Allentown today!
Where Dentures Started
Historians believe that the earliest version of dentures was created and used in 700 B.C. Even back then, people wanted to replace their teeth with something that looked lifelike and could function well. That's why the first dentures were constructed with real animal or human teeth. Throughout the years, a wide variety of somewhat natural-looking and reliable materials have been used to fashion replacement teeth, including ivory, bone, and shells.
The Industrial Revolution and Denture Technology
During the Industrial Revolution, refined sugar became affordable and easily accessible to the public, which caused cavities, infected teeth, and tooth loss to skyrocket. Thankfully, denture technology improved in the 1700s with the introduction of dentures made of porcelain. However, these dentures looked unnaturally white, chipped easily, and were too expensive for many people.
In the mid-1800s, an alternate type of denture was crafted from hardened rubber. Not only were these dentures cheaper, but they could be molded to the gums for a much better fit. These were widely used until the 20th century, when acrylic resin became the norm.
George Washington's "Wooden Teeth"
President George Washington struggled with his oral health for his entire life. When he was inaugurated, he only had one natural tooth left, and by the time he was 57, he had lost all his teeth. He went through five pairs of dentures, all carefully crafted out of human tooth structure, animal teeth, and ivory. These early materials tended to stain very quickly, which could have given them a somewhat "wooden" complexion. Unfortunately, not only were these dentures discolored, but they often smelled bad and were very uncomfortable to wear as well.
The Benefits of Dentures Today
Thankfully, dentures have come a long way since George Washington's time. In fact, modern dentures are a popular tooth replacement option because of benefits like:
Lifelike appearance: The dental ceramic and acrylic resin that dentures are crafted from today look exceptionally lifelike for seamless results.
Reliable and durable: Advanced technology and high-quality materials mean that dentures are far less likely to chip, crack, or break.
Restored chewing ability: Thanks to their improved design, dentures can allow patients to get back to easily eating many of their favorite foods.
Improved comfort: The precise fit of modern dentures for your unique mouth ensures that they are as comfortable as possible.
Longer lifespan: With the proper care, modern dentures can easily last a decade or more!
Don't let missing teeth keep you from feeling comfortable or confident. Talk to your dentist today to see if dentures are right for you!
About the Practice
Husband-and-wife team Dr. Eric J. Marsh and Dr. Michele A. Pisano-Marsh are passionate about providing excellent dental care for the smiles of Allentown and the surrounding communities. While they always work hard to help you keep all your pearly whites intact, they also offer a variety of tooth replacement options as well. Whether you're interested in a dental bridge, dentures, or dental implants, they can help restore your complete, confident smile. To learn more, they can be contacted via their website or at (610) 432-8037.
Comments Off

on How Dentures Have Evolved & What You Can Expect from Them Now
No Comments
No comments yet.
RSS feed for comments on this post.
Sorry, the comment form is closed at this time.