August 25, 2020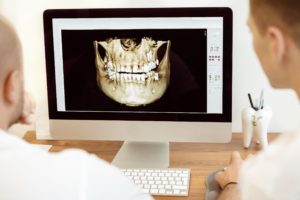 Are you interested in replacing your missing teeth with dental implants? Has your dentist mentioned your case is a bit complex? You might believe you're an unsuitable candidate for dental implants or that you're at a higher risk of failure, but neither is true. Instead, it means your dentist will recommend a few precautionary steps to ensure your new smile thrives. Although no two cases are the same, here are 4 of the most common issues that can make your dental implant procedure more complicated than others.
1. Poor Bone Health
A dental implant is unlike any other treatment because it recreates the entire structure of a tooth. A titanium implant post is surgically placed into the bone to secure your restoration. The success of your new smile relies on your bone fusing to the post to support it long-term.
If you have lived with missing teeth for several years, or you have had advanced periodontal disease, you might have low bone density. As a result, you may need bone grafting before you can move forward with dental implants.
Most dental implants require at least ¼ inch of bone to support them. If your jawbone's density is compromised, the grafting procedure adds thickness to any weakened areas. Although it will create another step in your treatment plan, it's essential to ensure your bone can support your implant posts for decades.
2. Multiple Missing Teeth
You can treat multiple missing teeth using dental implants; however, you'll need more than 1 post, which naturally complicates the procedure. Your dentist will use computer-guided technology to pinpoint the precise locations for the posts. This takes the guesswork out of the process to promote their overall success.
3. Infection
Although gum disease is preventable, it's the leading cause of tooth loss in the U.S. If it's the cause of your missing teeth, you won't be a candidate for dental implants until after the infection has been treated. In some cases, you might need additional procedures to treat any damage it has caused, like tooth extractions or bone grafting.
4. Poor Lifestyle Choices
If you have a habit of smoking, your dental implant treatment will be more complex. Tobacco limits your body's ability to heal and fight infections, which can compromise the success of your treatment. In fact, the failure rate for smokers is over 15%, compared to about 5% for nonsmokers. It's best to kick the habit before replacing your missing teeth to protect your investment from any unnecessary complications.
Invest in a Long-Term Solution
If your dental implant case is complex, there isn't any reason to worry. With a highly qualified dentist by your side, they'll ensure your new smile has everything it needs to last for decades with the right aftercare.
About Dr. Eric Marsh
Dr. Eric Marsh earned his Doctorate at the University of Pennsylvania School of Dental Medicine in 1988. He regularly continues his training to provide many areas of specialty, including implant dentistry. If you're ready to replace your missing teeth, contact our office today to schedule your consultation.
Comments Off

on Why Is My Dental Implant Case Complex?
No Comments
No comments yet.
RSS feed for comments on this post.
Sorry, the comment form is closed at this time.