February 26, 2020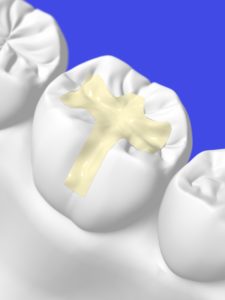 Your teeth are designed to last forever with the right care. Unfortunately, the biggest threat to their longevity is tooth decay. Although cavities are preventable, at least 92% of adults have had at least one in a permanent tooth. If you've had a cavity, it was likely treated with a dark metal filling, but did you know there is a more natural-looking solution? White fillings match your enamel to blend in when you smile, but how long do they last? Don't worry, although they aren't made of metal, they can thrive for decades with the right aftercare.
Metal-Fillings VS White Fillings
Metal fillings have been used for decades to treat tooth decay because they are convenient and effective. They can be made of many types of metal; however, most are amalgam. This is a mixture of various metals, including mercury. While the American Dental Association says they are safe, it's normal to be concerned about your long-term exposure to mercury. Not to mention, they are very noticeable.
White fillings aren't made of any metal. Instead, they are comprised of fine glass and plastic particles. This allows a filling to be customized to match your enamel, so no one will know it's there. It's also biocompatible, and there's no risk of mercury exposure. When compared to metal fillings, you can also keep more of your tooth intact because wedges don't need to be cut into it to support the filling like that of a metal one.
How Long Do White Fillings Last?
Since metal fillings aren't made of metal, it's natural to worry about their durability. Although they are made of a composite resin material, they can last for 10 years or longer with the right aftercare. You can promote how long your filling lasts by following a few simple tips:
Use a soft-bristled toothbrush and fluoride toothpaste to clean all surfaces of your teeth at least twice a day for 2-minutes each session.
Use a high-quality dental floss to clean in between each tooth.
Limit sugary drinks and snacks.
Limit your contact with stain-causing foods and drinks.
Don't use your teeth as tools to open packages.
Don't chew on inedible objects.
Don't chew on ice or overly hard foods.
Visit your dentist at least twice a year for a cleaning and checkup.
Restore a Healthy Smile Today
You don't need to let a dark filling blemish your smile. You can enjoy metal-free dental restorations to treat your tooth. You'll enjoy natural-looking results using a biocompatible solution.
About Dr. Eric J. Marsh
Dr. Eric J. Marsh works alongside his wife, Dr. Pisano-Marsh, to provide high-quality dental care to the community. With over 30 years of experience, he combines his qualifications and training with the latest innovations in dentistry. Dr. Marsh not only promotes the health of your smile but also its appearance using modern treatments. If you have a cavity, he can treat it with a metal-free filling. Contact our office today for an appointment.
Comments Off

on How Long Will Metal-Free Fillings Last?
No Comments
No comments yet.
RSS feed for comments on this post.
Sorry, the comment form is closed at this time.