November 26, 2019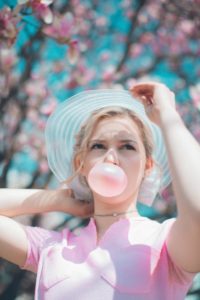 There's a reason that stores always put chewing gum by the register. It's hard to resist the temptation to buy some after grocery shopping. In fact, according to the U.S. Census Bureau, the average American chews almost two whole pounds of the stuff every year. You would think that, like most treats, gum is bad for your pearly whites, but that's actually not the case. Luckily, dental chewing gum comes with multiple benefits. Continue reading to learn more.
Make Sure Your Gum Is Sugarless
Gum that has sugar is just as likely as candy to give you cavities. Sugar-free gum, on the other hand, actually has several benefits, such as removing excess food particles from the surface of your teeth. The act of chewing also stimulates the production of saliva. Although that sounds gross, you actually want more saliva in your mouth, not less. Saliva helps clear away food debris, neutralizes the acids in any food and drink you just consumed, and can even strengthen your teeth. According to the American Dental Association, it's best to chew sugarless gum for about 20 minutes right after eating.
Choose Gum with Xylitol
If you can, take a look at the ingredients on the package next time you buy some gum while stuck in line at the checkout counter. Many sugar-free gums use xylitol, a sugar substitute, as a sweetener. In fact, some studies have shown that xylitol can reduce the number of cavity-causing bacteria in the mouth after chewing. Unlike sugar, xylitol cannot fuel these bacteria, so they don't have the energy to wreak havoc on your pearly whites.
Some Gum Even Strengthens Your Teeth
Recently, some gum manufacturers are starting to create gum with a chemical called casein phosphopeptide-amorphous calcium phosphate, also known as CPP-ACP. This substance is more commonly known by its trademark name Recaldent, and is said to be able to remineralize and harden tooth enamel, providing a boost of protection against cavities.
Is Chewing Sugarless Gum a Substitute for Brushing and Flossing?
No. While chewing sugar-free gum for 20 minutes after a meal or snack can certainly help if you don't have access to your toothbrush, it's not as good as the real thing. If you are able to brush and floss, though, you should always do so, as it's significantly better for your oral health.
If you love chewing gum, this is good news for you. Just remember to pick a sugar-free variety, and don't use gum as a substitute for regular oral hygiene.
About the Author
Dr. Eric Marsh is a dentist in Allentown who achieved his Doctor of Dental Medicine degree in 1988 from the University of Pennsylvania School of Dental Medicine. He began practicing in Allentown the following year and has never looked back. He has participated in the Pennsylvania Dental Association's Mission of Mercy programs, as well as having advocated for more fluoride in the drinking water in the city of Allentown. To learn more about the benefits of dental chewing gum, you can visit Dr. Marsh's website.
Comments Off

on Can Chewing Gum Help Clean Your Teeth?
No Comments
No comments yet.
RSS feed for comments on this post.
Sorry, the comment form is closed at this time.