January 14, 2019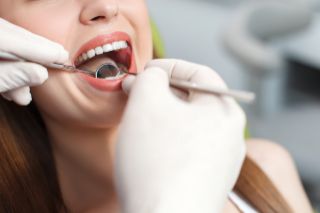 It goes without saying that having a healthy smile is important for leading a long, happy life. But what does it take to keep your teeth and gums in good shape? It starts with effective oral hygiene habits at home and regular visits to a dentist in Allentown. In this blog, you'll learn some at-home tips for keeping your teeth cavity-free and your gums healthy, and find out why 6-month checkups are more important than you might think!
How Can You Make Oral Hygiene Easier and More Effective?
The "baseline" recommendation for good oral hygiene is brushing twice a day and flossing once. But, to make sure you're doing a good job, it's helpful to have a few tricks up your sleeve, including:
Aim for consistency, not perfection – If you're one of the many people who struggle with flossing, try starting with an attainable goal like flossing 3-4 times a week at first. It will be easier to increase it to every day from there. Also, if you find bedtime difficult because you're too tired, try flossing right after lunch or dinner when you have more energy.
Experiment with hygiene aids – There are many tools available such as electric toothbrushes, floss picks, and oral irrigators – experiment to find what works for you.
Eat a healthy diet – Minimize sugar and avoid snacking (or sipping) on anything sweet throughout the day. And adding more fruits and vegetables to your diet is great for your oral health and overall health.
Practice on-the-go oral hygiene – When you can't brush and floss after a meal, chew sugar-free gum or simply swish with water several times. In addition to freshening your breath, this will help to neutralize the acids in your mouth that cause cavities.
Why Are Regular Checkups So Important?
Your checkups are so much more than just a cleaning. They're a chance to have every aspect of your oral health monitored, including:
Existing dental work – When potential problems with your existing dental work are caught in time, they can often be treated to extend the life of that dental work and avoid the need for a replacement.
Major dental work is minimized – Annual X-rays allow a dentist to find problems as early as possible – before they cause pain.  
Your gum health – Gum disease is the leading cause of tooth loss and has also been found to increase your risk for heart disease, stroke, pregnancy complications, Alzheimer's, and even some cancers.
Oral cancer detection – With any type of cancer, early detection is crucial. That's why both a dentist and hygienist visually examine all of your soft tissues to screen for oral cancer at each checkup.
When you take great care of your teeth and gums at home and combine that with regular checkups, you'll be sure to have a healthy smile for life!
About the Author
Dr. Michele Pisano-Marsh is a general, restorative and cosmetic dentist in Allentown with nearly 30 years of experience. In addition to providing outstanding dental care, she also helps her patients achieve great oral health by teaching them how to care for their smile in between visits. If you have any other questions about your oral hygiene, she can be contacted via her website.
Comments Off

on What's Essential For Good Oral Hygiene? A Dentist in Allentown Explains
No Comments
No comments yet.
RSS feed for comments on this post.
Sorry, the comment form is closed at this time.