August 25, 2017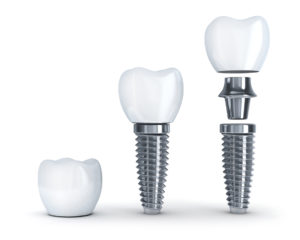 What happens when one of your permanent adult teeth becomes missing? Have you ever considered the consequences that stem from missing even one important component of your smile?
When patients ignore the fact that they've lost a tooth, they're increasing their chances of developing one of these dental problems:
Shifts in their smile, causing orthodontic issues.
Systematic health issues.
Jawbone deterioration.
Additional tooth loss.
Disease and infection.
Rather than facing one of these dental problems, consider getting dental implants in Allentown.
Get the 411 on Dental Implants
With the developments we have made today, dental implants look and act as permanent natural teeth. Your dentist can replace both the root (a critical part of your tooth below the gum line) and the crown (what others see when you smile) of a missing tooth.
The actual dental implant is a tiny titanium post that mimics the root of your tooth. This helps to restore the health and function of your jawbone. Since you'll have an artificial tooth root, your jawbone will continue to be stimulated rather than deteriorating or causing additional bone and tooth loss.
Dental Implant Placement Step by Step
The first step to getting your dental implants would be to meet with a dentist in Allentown. The first phase of replacing a tooth with an implant includes the surgical placement within your jawbone. You don't have to worry about a painful or unpleasant oral surgery process. Dentists will use local anesthetic along with sedatives and pain medication for after your surgery to ensure a positive dental experience.
After your implants have been placed, your jawbone and gums will naturally fuse to your implant with a designated healing period. Although your Allentown dentist may not complete the surgical portion of your implant placement, they will be your advocates throughout the entire process. Your dentist will be able to instruct you on the best practices to use and avoid during your healing period.
Reap the Benefits of Getting a Dental Implant
Dental implants don't only restore the missing teeth in your smile, but they can restore your confidence, too! This is just one of many benefits that dental implants offer patients with missing teeth.
Some other positive things about dental implants include:
Ability to blend well with the rest of your smile with tooth-colored restorations.
No abrupt changes in your dental hygiene routine, your restorations can be cared for just as regular teeth.
Durable restorations built to last the rest of our patient's lives with the proper care and regular checkups.
Does the possibility of having a full, healthy smile again excite you? Imagine eating, speaking, and smiling confidently—it's possible with dental implants!
Meet the Marsh Dentists
At the office of Dr. Eric Marsh and Dr. Michele Pisano-Marsh, we work with patients one on one to discover the best treatments and procedures for them. With each of your dentists having just about 30 years of experience in dentistry, you can be sure that your smile will be left in excellent condition when you leave our office. Each of our doctors are committed to patient comfort and staying up to date with the latest advancements in dentistry.
If you're ready to explore dental implants and what they can do for you, give our office a call at (610) 421-1166.
Comments Off

on Missing Teeth? Learn About Dental Implants in Allentown!
No Comments
No comments yet.
RSS feed for comments on this post.
Sorry, the comment form is closed at this time.