May 19, 2017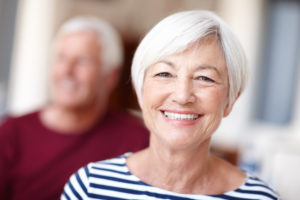 If you are among the 178 million adult Americans missing at least one tooth, you need an effective tooth replacement option. While you could choose a conventional method like a dental bridge or dentures, you could choose the most preferred and effective option with dental implants in Allentown. Dental implants allow you to regain your ability to eat and speak with an solution that closely mimics the appearance and function of a natural tooth. Dr. Eric Marsh will help you decide if dental implants are right for you to make a true investment in your oral health and quality of life.

Why Do I Need to Replace Missing Teeth?
When you lose a tooth, your confidence quickly declines due to an incomplete smile. However, your self-esteem is not the only area to suffer. Every tooth in your mouth plays a vital role in oral functions, like eating. When you have a missing tooth, you may develop dietary restrictions, which can lead to nutritional deficiencies.
In addition, tooth loss causes your underlying jawbone to lose density. Over time, your remaining natural teeth will lose support, causing them to shift. As they move out of position, oral hygiene becomes difficult, increasing your risk for tooth decay and gum disease. Eventually, you will lose more natural teeth from bone loss.
With the use of a dental implant post, the bone remains stimulated to preserve bone density. You will regain a complete smile and protect your oral health.
How Can I Get Dental Implants?
To get dental implants, you will need to schedule a consultation with your dentist in Allentown to see if you are a candidate. In most cases, as long as you have healthy gums and adequate bone density, you are a candidate.
The first phase of treatment involves surgically inserting a biocompatible, titanium post into the jawbone to replace the tooth root. Your jawbone will naturally fuse to the implant over the next several weeks. This provides a secure and lifelong foundation for the implant supported tooth.
After your jawbone has healed, you will return to our office for the restoration process. An abutment is attached to the implant post to allow the gum tissue to heal correctly. In addition, it is needed to attach the custom-made dental crown to the post. Once the restoration process is complete, you will have a permanent solution to restore your confidence and quality of life.
Where Can I Get Dental Implants?
If you are ready to replace your missing teeth with the most effective and preferred solution, it is time to schedule your consultation with Dr. Marsh. He will perform the consultation necessary to ensure you are a candidate for the procedure. A comprehensive treatment plan will be created to begin replacing your missing teeth.
Do not let tooth loss hurt your confidence or oral health any longer. Contact our office today to see if you are a candidate for dental implants. We look forward to seeing you smile.
No Comments »
No comments yet.
RSS feed for comments on this post.
Leave a comment