April 20, 2017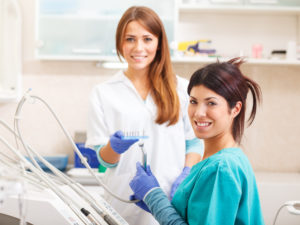 When you have a genuine problem, you search for a professional to help you solve it. So, when you or a family member has a dental issue, it's understandable to search for a dentist in Allentown. Luckily, you've stumbled upon a dental office that not only can help you with any dental problem you or your loved one may be facing, but we have the experience and happy patients to prove it.
Get to Know Your Dentists
It's normal to heavily depend on positive feedback from friends or colleagues for a recommendation on a new dentist in your area. Have you ever considered looking online to read reviews on your potential dentist? Google reviews can allow you to understand the inner workings of a dental practice without having to step foot in the office. You'll be able to see the honest opinions of patients that have already interacted with your dentist. Our dental office has a 5-star rating!
For example, one of our patients stated, "As a patient since 1990, I am very excited to give this dental practice 5 stars! Whether you are there for a cleaning, a dental procedure, or even just calling with questions, I have found each and every staff member to be both friendly and professional. Highly recommended!!!" To see more Google reviews, click here.
We Have the Services Your Whole Family Needs
Most health professionals will tell you that prevention is the best defense against disease. Dental care is no exception. The office of Eric J. Marsh and Michelle A. Pisano-Marsh has the services your whole family needs.
Preventive Dentistry
Our office is widely known for providing comfortable, compassionate dental care to patients of all ages—from a child's first appointment to the wisest members of your family. Staying on top of your dental care is key to maintaining great overall health. We make it easy to look forward to visiting your dentist for the preventive care you need.
Cosmetic and Restorative Dentistry
If a member of your family needs a little extra attention to their teeth and gums, our office is well-known for great cosmetic and restorative dentistry. Leaving a flawed or dysfunctional smile to decay can compromise your overall health and affect your appearance. Consult with your cosmetic dentist in Allentown to discover which service is best for you.
Visit Our Office
Our dental office understands the unending benefits of a healthy mouth. Every patient should be able to gain everything a beautiful smile has to offer. These are just a few of many services offered by our office. Review our services page to better understand the many dental services offered all in our one Allentown office. If you have any other questions, feel free to contact our office. Our friendly dental team would love to schedule an appointment for you and your family!
No Comments »
No comments yet.
RSS feed for comments on this post.
Leave a comment